NY Post h/t The Moral Perspective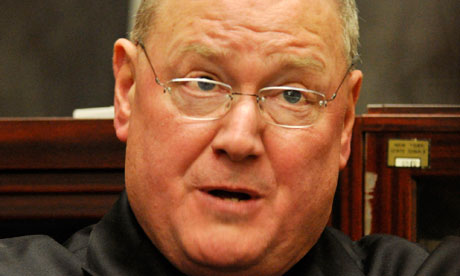 Cardinal Timothy Dolan is a liar and a paedophile accommodationist. This is not in doubt.
Cardinal Timothy M. Dolan of New York authorized payments of as much as $20,000 to sexually abusive priests as an incentive for them to agree to dismissal from the priesthood when he was the archbishop of Milwaukee.
Questioned at the time about the news that one particularly notorious pedophile cleric had been given a "payoff" to leave the priesthood, Cardinal Dolan, then the archbishop, responded that such an inference was "false, preposterous and unjust."
But a document unearthed during bankruptcy proceedings for the Archdiocese of Milwaukee and made public by victims' advocates reveals that the archdiocese did make such payments to multiple accused priests to encourage them to seek dismissal, thereby allowing the church to remove them from the payroll.
You might have thought that the honest thing to do would be to admit to your lies and subterfuge, before handing in your resignation with your head held in shame. But no, that would be far too human a reaction. Far from making even a passing apology for his outrageous and illegal behaviour (not so much in the name of God, but his Vatican-based child-fucking men's club), he starts shooting the messenger in the forlorn hope that in the resulting smokescreen, we will not notice his odious actions/inactions.
"The New York Times does not have a reputation for fair and accurate reporting when it comes to this issue. … So, to respond to charges like that — that are groundless and scurrilous — in my book it's useless and counterproductive."
So, Catholics. I ask you sincerely. Will you, for once, stick your neck out and admit that this man is a despicable cretin that should be ejected at the earliest convenience by the church you hold so dear?
If not, why not?