I was initially going to make this post principally about those that have carried out God's instructions to kill, but whilst they are included here, I found during my research that I encountered a number of interesting asides.

Unfortunately, my original message got somewhat drowned out in the theocratic white noise that is justification of personal moral turpitude by blaming someone that cannot be held accountable.

Guess what? You are accountable for your actions, and not in some randomly conceived notion of an afterlife, but here and now.

Certainly, some of these people are seriously cognitively challenged, but where is the level of demarcation to be drawn? What is it in someone's actions that we can clearly define one persons actions as an illness, and another's as a leadership quality?
The famous
George W Bush
President George W Bush told Palestinian ministers that God had told him to invade Afghanistan and Iraq - and create a Palestinian State.
Abu Mazen, Palestinian Prime Minister, and Nabil Shaath, his Foreign Minister, describe their first meeting with President Bush in June 2003. Shaath said;
"President Bush said to all of us: 'I'm driven with a mission from God. God would tell me, "George, go and fight those terrorists in Afghanistan." And I did, and then God would tell me, "George, go and end the tyranny in Iraq ." And I did. And now, again, I feel God's words coming to me, "Go get the Palestinians their state and get the Israelis their security, and get peace in the Middle East." And by God I'm gonna do it.'"
Kevin Elison
Former USC recruit Kevin Ellison is in legal trouble after setting off a blaze in his apartment and telling authorities that God told him to do it.
According to court documents, Ellison was at a hospital when he told authorities he started the fire;
"because God had told him to set the bed on fire,"
U.S. Magistrate Cynthia Imbrogno ordered Ellison to remain in federal custody Thursday. A hearing to determine whether he should be allowed to leave jail on bail to await trial is scheduled for June 19.

Manny Pacquiao
Pacquiao is the first boxer in the sport's history to have won world titles in eight weight divisions and recently launched a successful political career after being elected to the Philippine House of Representatives in June 2010.
He said

in a radio interview on Monday that he had a dream in which God had told him to hang up his gloves.
Like St. Augustine's prayer "God make me chaste - but not yet," Filipino fighter Manny Pacquiao's personal conversation with God may not lead to his retirement any time soon.
[Tris: If one truly believes that God is telling you to do things in your dreams, it seems churlish to me to disobey Him.]
Glenn Beck
On the day he decided to leave [FOX News], Beck said he walked up to a floor-to-ceiling window in his New York apartment and asked his wife, "How could this possibly be God's plan?"
"As I stood there, the Lord whispered to me, 'If you do not leave now, you will lose your soul,'" Beck said. "It was the easiest decision I've ever made."
"The primary reason that he left is because [FOX News] were not comfortable with him talking about God and Jesus as often and as freely as he did,"
LOLwut?
Other prominent examples
Angel Dillard
"Angel Dillard believed she was inspired by God to send a letter to Dr. Means in an attempt to convince her not to pursue her plan to abort babies in Wichita," attorney Donald McKinney said. "Angel Dillard wrote the letter quickly, in a matter of minutes, and believed that her message was divinely inspired."
The letter read;
"They will know your habits and routines. They know where you shop, who your friends are, what you drive, where you live," the letter said. "You will be checking under your car everyday — because maybe today is the day someone places an explosive under it."
When Angel Dillard was arrested for sending threatening letters to Dr. Mila Means, her original defence was that it wasn't a "true threat." She wasn't really going to put a bomb under the doctor's car, her lawyer argued, so it shouldn't count.



Schizophrenics and the criminally insane

"Voice of God told me to save people from a space alien attack"
A man who beheaded a fellow bus passenger has revealed that he believed he was killing an alien.
Speaking for the first time since the July 2008 attack in Canada, Vince Weiguang Li said he had heard what he believed was "the voice of God" instructing him to "save people from a space alien attack."
Chinese-born Li was found not guilty of murdering 22-year-old Tim McLean – who was stabbed 50 or 60 times before his head was cut off - after being diagnosed with paranoid schizophrenia.
"The voice told me that I was the third story of the Bible, that I was like the second coming of Jesus [and that] I was to save people from a space alien attack,"
"I was really scared. I remember cutting off his head. I believed he was an alien. The voices told me to kill him, that he would kill me or others. I do not believe this now."
Deanna Laney
During the investigation, Laney claimed God ordered her to bash in her sons' heads. Laney is a member of an
Assemblies of God
church, where she sang in the choir.
A Smith County jury acquitted Laney in 2004 of the deaths of two sons, 8-year-old Joshua and 6-year-old Luke. Son Aaron, then 14 months old, survived but suffered brain damage.
Psychiatrists testified that Laney couldn't finish killing the baby, and that she told God, "You're just going to have to do the rest." Prosecutors said that action indicated Laney knew right from wrong and that if she chose to disobey God's orders by not killing Aaron, she could have disobeyed his orders to kill the other two.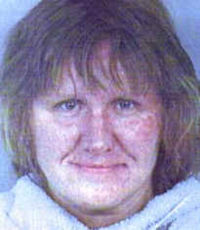 Dena Schlosser, on November 22, 2004, amputated the arms of her eleven-month-old daughter, Margaret, with a knife. When police arrived, they saw Schlosser covered in blood and calmly sitting holding the knife singing Christian hymns.
The baby died the following day
Psychiatrist David Self testified that Schlosser told him that she had interpreted a television news story about a boy being mauled by a lion as a sign of the coming apocalypse and that she had heard God commanding her to remove her baby's arm and then her own- The attack was later described as "religious frenzy".
She was found not guilty by reason of insanity and was committed to the North Texas State Hospital and ordered to stay there until she is deemed to no longer be a threat to herself or others.
Jermaine Gilchrist, 36, of North Street, Huddersfield, was found to have killed Beryl Gilchrist, also known as Nazarine Samuel, on June 24 2010.
In an interview on June 25, 2010 he said: "I ain't mad, I'm not crazy, I don't hear voices, I serve a God much greater than myself. These are the things God expects from me. He expected me to judge her."
Describing the attack he said they argued over a preacher on a Christian TV channel in her living room before he attacked her with a kitchen knife stolen from Poundstretcher earlier that day.
Blair Donnelly

According to a statement of facts agreed on by the Crown and the defence, on the morning of Nov. 23, 2006, Donnelly began praying and studying the Bible, acting out of sorts and interpreting events of the morning as a message from God that he needed to kill his wife.
He found his daughter at the computer and took it as a sign that God wanted him to kill her. If he didn't, he thought he would have to kill his entire family.

---|---

Is it even possible to tell who is a delusional paranoid schizophrenic and who is the true believer?
Neuroscience suggests that there is no difference in the way we process knowledge and belief.
The 2012 Republican Presidential candidates
This article wouldn't be complete without a passing mention of the claims made by the candidates in this year's Republican Presidential nomination campaign.
Michele Bachmann
"Well, every decision that I make, I pray about, as does my husband, and I can tell you, yes, I've had that calling and that tugging on my heart that this is the right thing to do,"
Herman Cain
"I prayed and prayed and prayed. I am a man of faith," Cain told the Young Republican National Federation at the Westin Peachtree Plaza. "I had to do a lot of praying for this one, more praying than I have ever done before in my life. And when I finally realized that it was God saying that this is what I needed to do, I was like Moses: 'You have got the wrong man, Lord. Are you sure?' … Once I made the decision, I did not look back."
Newt Gingrich
"I pray before virtually every speech and virtually every major decision,"
Rick Perry
"I've just always been really stunned by how big a pulpit I was going to have, I truly believe with all my heart that God has put me in this place at this time to do his will."
Karen Santorum told Fox News in an interview she had "totally closed the door to the idea" of her husband, a former Pennsylvania senator, joining the Republican nomination race, but "in the end, despite my resistance, when God asks something – you do it."
In the interview to be telecast Sunday, she said Santorum was running as a calling. He prays daily, telling God, "Lord here I am. I'm your servant. What do you want from me today?" she said. "Our Christian faith is everything to us. It's so important to pick a leader who comes to the table with strong Christian principles." However, she clarified, "he's not going to make people do things they don't want to do."
One has to wonder why none of them claim God told them to stop running, whilst Mitt Romney - who has in all but name been accepted as the Republican nomination - did not make any claims about God and his decision to run for PoTUS.
Dishonourable mentions
I Think God Told Me that I'm a Lunatic Last Night.

It really hurt my feelings.




I was praying and I thought He said, "She's a lunatic." and I couldn't believe that I heard that because it sounds so much like what my husband says to me when he's angry with me. He will say that I'm crazy to discredit me so he can win an argument. Though I didn't know that I was in an argument of any type with God, I just thought I was talking to Him like I do every night. Then I hear, "Just look at her."




Last night, the cat came and sat by my arm, very close and comforted me, but I still don't know what this whole thing is about. I enjoy being on glp and watching the news and speculating on finance and Israel and world affairs. I can't work a job now because of my mental status and needing to be here for my autistic son, whom I love very much. Still, I don't understand why this happened last night.




Very confused and hurt and unsure what to think. Afraid to ask. I know I was snuggled this morning intensely, but I don't understand any of this. I trust in God to treat me with love and to be my encourager. To tell me good things about myself and my abilities. I'm very dependant. Maybe He's getting tired of me being so dependant and needy. My sister says that you should stay away from needy people. I quit having imaginary friends who were my encouragers and witnesses and turned all the way toward God. I really don't understand what I must have done to upset Him and I feel like He didn't tell me what I did to upset Him, so I am hurt and confused.




I don't get it. Really.
Aninymous would-be car

thief
A man who tried to break into a car showroom claimed that he was doing so under orders from God.
The man smashed a window at the dealership in Lexington, Kentucky, but was caught by a security guard before he could make it inside.
When he was arrested by police, the 36-year-old at first informed them that his name was 'Seven.'
He is facing charges including criminal mischief.According to reports, he told the guard he was doing it because God wanted him to steal a Dodge Charger.
Carlos Rico
Carlos Rico, 22, from Lubbock, is charged with endangering a child. According to Sweetwater Police Chief Jim Kelly, Rico and Angel were headed to see family in Saginaw. After stopping and tossing Angel out of his truck, Rico travelled to Eastland where he stopped a gas station and told people he killed his child.

"As he was getting back into his pickup there was a dead bird on the grill of his pickup and the bird told him the son is not dead. He gets to Saginaw where he was talking to his brother, his brother is trying to get him to tell him where the child is. He can't give him a good explanation," Kelly said.
Rico's brother told him to confess to authorities in Saginaw. Rico told police he choked his son before leaving him. He described it as a religious experience, Kelly said. Rico said God told him to kill his son.
Jennifer Cisowski
A woman who says inner voices told her to repeatedly slam her infant son to the ground and down a flight of stairs believed he would rise from the dead if her faith was strong enough, a prosecutor said.




Jennifer Cisowski, 21, allegedly told investigators after the boy's death Tuesday that voices in her head told her to test her faith in God.




"She is told allegedly by these voices to throw her baby down on the ground and he will be healed," prosecutor Tom Bakkedahl said. "She was of the opinion it was God speaking to her."




Eight-month-old Gideon Fusscas, whom sheriff's office deputies found lying dead on floor of an upstairs home office, died of multiple head injuries, an autopsy found.




Cisowski, of Marlborough, Conn., and her sister were vacationing at their mother's home in an upscale subdivision in Palm City.




The night the boy died, authorities say, Cisowski asked her 17-year-old sister Tabitha to help drive away demons she said were possessing her boyfriend, Christopher Fusscas, 29. He is the baby's father.




"They were grabbing each other and pushing and pulling in an effort to keep him from leaving the house so she could get him to sit down and remove the demons," Bakkedahl said.




Fusscas and Tabitha Cisowski told investigators they were scuffling when Cisowski took her child outside.




Cisowski told deputies that she was to blame for the boy's death, she deserved to die and made a reference to Andrea Yates, the Houston mother accused of drowning her five children in a bathtub in June.




"There's no question that this young lady is seriously ill, and we're going to be looking at that in the days and weeks to come," said her attorney, Richard Lubin.




She is being held on charges of first-degree murder and aggravated child abuse. "
---|---
The last site I visited in researching this post gave an apologist account for
how God speaks to us
, and although the comments were not moderated, I thought it reasonable to copypasta my response here for posterity should the site's administrator decide upon a
post-hoc
censorship. '
Ere t'is
;
"If someone claims, "God told me to go kill my neighbor!" would you believe him? Of course not! God never violates His own Word or principles. That "voice" does not belong to God."
But if someone claims that God told them to kill their children, should you believe this? Because it is entirely consistent with His own Word and principles. That voice could very well be God.
Kill People Who Don't Listen to Priests
Anyone arrogant enough to reject the verdict of the judge or of the priest who represents the LORD your God must be put to death. Such evil must be purged from Israel. (Deuteronomy 17:12 NLT)
Kill Witches
You should not let a sorceress live. (Exodus 22:17 NAB)
Kill Homosexuals
"If a man lies with a male as with a women, both of them shall be put to death for their abominable deed; they have forfeited their lives." (Leviticus 20:13 NAB)
Kill Fortunetellers
A man or a woman who acts as a medium or fortuneteller shall be put to death by stoning; they have no one but themselves to blame for their death. (Leviticus 20:27 NAB)
Death for Hitting Dad
Whoever strikes his father or mother shall be put to death. (Exodus 21:15 NAB)
Death for Cursing Parents
1) If one curses his father or mother, his lamp will go out at the coming of darkness. (Proverbs 20:20 NAB)
2) All who curse their father or mother must be put to death. They are guilty of a capital offense. (Leviticus 20:9 NLT)
Death for Adultery
If a man commits adultery with another man's wife, both the man and the woman must be put to death. (Leviticus 20:10 NLT)
Death for Fornication
A priest's daughter who loses her honor by committing fornication and thereby dishonors her father also, shall be burned to death. (Leviticus 21:9 NAB)
Death to Followers of Other Religions
Whoever sacrifices to any god, except the Lord alone, shall be doomed. (Exodus 22:19 NAB)
Kill Nonbelievers
They entered into a covenant to seek the Lord, the God of their fathers, with all their heart and soul; and everyone who would not seek the Lord, the God of Israel, was to be put to death, whether small or great, whether man or woman. (2 Chronicles 15:12-13 NAB)
Kill False Prophets
If a man still prophesies, his parents, father and mother, shall say to him, "You shall not live, because you have spoken a lie in the name of the Lord." When he prophesies, his parents, father and mother, shall thrust him through. (Zechariah 13:3 NAB)
Kill Women Who Are Not Virgins On Their Wedding Night
But if this charge is true (that she wasn't a virgin on her wedding night), and evidence of the girls virginity is not found, they shall bring the girl to the entrance of her fathers house and there her townsman shall stone her to death, because she committed a crime against Israel by her unchasteness in her father's house. Thus shall you purge the evil from your midst. (Deuteronomy 22:20-21 NAB)
Kill Followers of Other Religions.
1) If your own full brother, or your son or daughter, or your beloved wife, or you intimate friend, entices you secretly to serve other gods, whom you and your fathers have not known, gods of any other nations, near at hand or far away, from one end of the earth to the other: do not yield to him or listen to him, nor look with pity upon him, to spare or shield him, but kill him. Your hand shall be the first raised to slay him; the rest of the people shall join in with you. You shall stone him to death, because he sought to lead you astray from the Lord, your God, who brought you out of the land of Egypt, that place of slavery. And all Israel, hearing of this, shall fear and never do such evil as this in your midst. (Deuteronomy 13:7-12 NAB)
2) Suppose a man or woman among you, in one of your towns that the LORD your God is giving you, has done evil in the sight of the LORD your God and has violated the covenant by serving other gods or by worshiping the sun, the moon, or any of the forces of heaven, which I have strictly forbidden. When you hear about it, investigate the matter thoroughly. If it is true that this detestable thing has been done in Israel, then that man or woman must be taken to the gates of the town and stoned to death. (Deuteronomy 17:2-5 NLT)
Death for Blasphemy
One day a man who had an Israelite mother and an Egyptian father got into a fight with one of the Israelite men. During the fight, this son of an Israelite woman blasphemed the LORD's name. So the man was brought to Moses for judgment. His mother's name was Shelomith. She was the daughter of Dibri of the tribe of Dan. They put the man in custody until the LORD's will in the matter should become clear. Then the LORD said to Moses, "Take the blasphemer outside the camp, and tell all those who heard him to lay their hands on his head. Then let the entire community stone him to death. Say to the people of Israel: Those who blaspheme God will suffer the consequences of their guilt and be punished. Anyone who blasphemes the LORD's name must be stoned to death by the whole community of Israel. Any Israelite or foreigner among you who blasphemes the LORD's name will surely die. (Leviticus 24:10-16 NLT)
Kill False Prophets
1) Suppose there are prophets among you, or those who have dreams about the future, and they promise you signs or miracles, and the predicted signs or miracles take place. If the prophets then say, 'Come, let us worship the gods of foreign nations,' do not listen to them. The LORD your God is testing you to see if you love him with all your heart and soul. Serve only the LORD your God and fear him alone. Obey his commands, listen to his voice, and cling to him. The false prophets or dreamers who try to lead you astray must be put to death, for they encourage rebellion against the LORD your God, who brought you out of slavery in the land of Egypt. Since they try to keep you from following the LORD your God, you must execute them to remove the evil from among you. (Deuteronomy 13:1-5 NLT)
2) But any prophet who claims to give a message from another god or who falsely claims to speak for me must die.' You may wonder, 'How will we know whether the prophecy is from the LORD or not?' If the prophet predicts something in the LORD's name and it does not happen, the LORD did not give the message. That prophet has spoken on his own and need not be feared. (Deuteronomy 18:20-22 NLT)
Infidels and Gays Should Die
So God let them go ahead and do whatever shameful things their hearts desired. As a result, they did vile and degrading things with each other's bodies. Instead of believing what they knew was the truth about God, they deliberately chose to believe lies. So they worshiped the things God made but not the Creator himself, who is to be praised forever. Amen. That is why God abandoned them to their shameful desires. Even the women turned against the natural way to have sex and instead indulged in sex with each other. And the men, instead of having normal sexual relationships with women, burned with lust for each other. Men did shameful things with other men and, as a result, suffered within themselves the penalty they so richly deserved. When they refused to acknowledge God, he abandoned them to their evil minds and let them do things that should never be done. Their lives became full of every kind of wickedness, sin, greed, hate, envy, murder, fighting, deception, malicious behavior, and gossip. They are backstabbers, haters of God, insolent, proud, and boastful. They are forever inventing new ways of sinning and are disobedient to their parents. They refuse to understand, break their promises, and are heartless and unforgiving. They are fully aware of God's death penalty for those who do these things, yet they go right ahead and do them anyway. And, worse yet, they encourage others to do them, too. (Romans 1:24-32 NLT)
Kill Anyone who Approaches the Tabernacle
For the LORD had said to Moses, 'Exempt the tribe of Levi from the census; do not include them when you count the rest of the Israelites. You must put the Levites in charge of the Tabernacle of the Covenant, along with its furnishings and equipment. They must carry the Tabernacle and its equipment as you travel, and they must care for it and camp around it. Whenever the Tabernacle is moved, the Levites will take it down and set it up again. Anyone else who goes too near the Tabernacle will be executed.' (Numbers 1:48-51 NLT)
Kill People for Working on the Sabbath
The LORD then gave these further instructions to Moses: 'Tell the people of Israel to keep my Sabbath day, for the Sabbath is a sign of the covenant between me and you forever. It helps you to remember that I am the LORD, who makes you holy. Yes, keep the Sabbath day, for it is holy. Anyone who desecrates it must die; anyone who works on that day will be cut off from the community. Work six days only, but the seventh day must be a day of total rest. I repeat: Because the LORD considers it a holy day, anyone who works on the Sabbath must be put to death.' (Exodus 31:12-15 NLT)
All of these could be attributed to one's children, so are entirely consistent with God's Word and principles.
Jephthah
Then it shall be, that whatsoever cometh forth of the doors of my house to meet me, when I return in peace from the children of Ammon, shall surely be the LORD'S, and I will offer it up for a burnt offering. (Judges 11:31 KJV)
And Jephthah came to Mizpeh unto his house, and, behold, his daughter came out to meet him with timbrels and with dances: and she was his only child; beside her he had neither son nor daughter. And it came to pass, when he saw her, that he rent his clothes, and said, Alas, my daughter! thou hast brought me very low, and thou art one of them that trouble me: for I have opened my mouth unto the LORD, and I cannot go back. And she said unto him, My father, if thou hast opened thy mouth unto the LORD, do to me according to that which hath proceeded out of thy mouth; forasmuch as the LORD hath taken vengeance for thee of thine enemies, even of the children of Ammon. And she said unto her father, Let this thing be done for me: let me alone two months, that I may go up and down upon the mountains, and bewail my virginity, I and my fellows. And he said, Go. And he sent her away for two months: and she went with her companions, and bewailed her virginity upon the mountains. And it came to pass at the end of two months, that she returned unto her father, who did with her according to his vow which he had vowed: and she knew no man. And it was a custom in Israel, (Judges 34-39 KJV)
And finally
You Have to Kill
Cursed be he who does the Lords work remissly, cursed he who holds back his sword from blood. (Jeremiah 48:10 NAB)